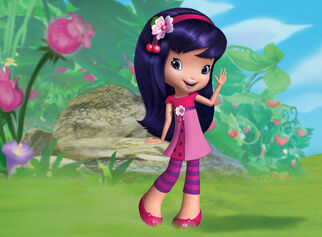 Cherry Jam
(or
Miss Jam
) is a berry new character in the episodes of Strawberry Shortcake. She appears in Season 2 of Strawberry Shortcake; Starlight, Star Bright . Cherry Jam is a pop-star in Berry Big City, and Strawberry said she's one of Cherry Jam's fans.
Cherry Jam only appears in the webisdes just for a vacation at Berry Bitty City with her new friends, and new adventures coming up! Strawberry first called Cherry Jam Miss. Jam, but Cherry said she can just call her Cherry.
List of Cherry Jam's Songs
Anything is Possible.
Friends. (The Real Music in You.)
Without you.
Fashion.
Sunshine Girls.
I think that is all of Cherry Jam's songs available.