Hooray for Berrywood! is Season 4 episode 17 in the 2007 series of Strawberry Shortcake.
Strawberry Shortcake and friends head off to Berrywood to visit Strawberry's movie friend, Limelight. When they arrive, they're shocked to see not everything is glitz and glamour. Strawberry must get her friends to come together and Limelight realize that everyone can shine - because everyone is a star. Soon, Limelight's movie is berry big success.
Strawberry and Co. visit Berrywood. Strawberry Shortcake's childhood friend, Lime Light, has hit it big in Berrywood, movie capital of Strawberryland.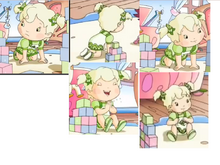 Characters:
Strawberry Shortcake as a teen & baby.
Limelight as a teen & baby.
Orange Blossom as a teen.
Angel Cake as a teen.
Ginger Snap as a teen.
The Gallery / image:
Ad blocker interference detected!
Wikia is a free-to-use site that makes money from advertising. We have a modified experience for viewers using ad blockers

Wikia is not accessible if you've made further modifications. Remove the custom ad blocker rule(s) and the page will load as expected.