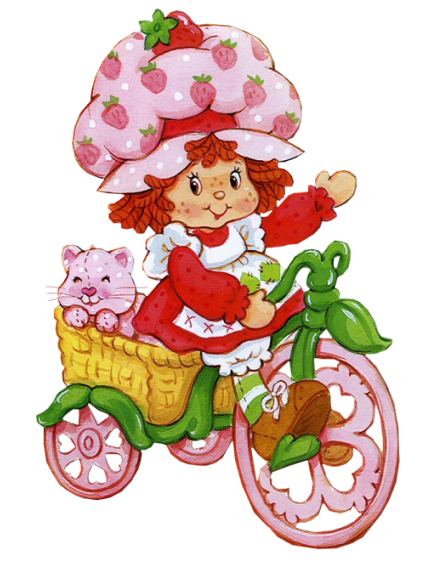 About the friends of 1980's
The last of Strawberry Shortcake's original 1980s friends, Plum Puddin' was the bespectacled genius of the group. A surprisingly non-token second male character in Strawberry's early adventures, Plum Puddin' vanished from Strawberryland in 1982, only to return to the series in 1984 as a brainy female. Strawberry Shortcake seemed not to notice. Plum remained Strawberry Shortcake's scientific advisor through the franchise's disbanding in 1985.
Friends of Strawberryland
About the friends of Strawberryland
Another of Strawberry Shortcake's new friends from her trip to Big Apple City, Lemon Meringue is a primping beauty known around the city as a famous model. When pressed for details, however, she admits that her "pictures" are mostly owned by members of her immediate family. It seems unlikely that a glamorous girl such as Lemon Meringue would choose a frog for a pet. But it is actually because of the fact that Frappé in no way competes with Lemon's beauty that they get along so well.
Coco Calypso

Coco Calypso is good friends with Strawberry Shortcake and her pals, but she lives on Seaberry Shore, a beautiful tropical beach far removed from her Strawberryland friends. Upon the girls' discovery of another, secret resident of the area, Coco found a new friend, and was not so lonely for companionship between Strawberry Shortcake's visits. Coco Calypso's pet is Papaya Parrot. Her best friend is Blueberry Muffin. Coco has dark brown hair and dark brown eyes. She is a very adventurous little girl. She is also friends with Tea Blossom.

Seaberry Delight

Seaberry Delight lives in a shell-shaped cottage in a secret grotto off of Seaberry Shore. A fantastic swimmer, Seaberry loves the water so much, she was mistaken for a mermaid when first encountered by Strawberry Shortcake and her friends. Once unaware of each others' co-existence on the beach, Seaberry and Coco Calypso have since become fast friends.

Blueberry Muffin

Blueberry Muffin has been Strawberry Shortcake's friend since the very beginning. While Blueberry Muffin was absent from the earliest 2000s Strawberry Shortcake Adventures, she first re-appeared in 2005's Seaberry Beach Party DVD. She received an official re-introduction in the Moonlight Mysteries DVD later that year. In the modern version, Blueberry Muffin has been re-imagined as a book-loving dramatist, who lives in a muffin-shaped cottage in Blueberry Valley. Her hair was also altered to an uncharacteristic brown color, but she re-instated her trademark blue hair in 2007, with mixed reactions from fans. Blueberry has curly brown hair and is in love with theater. She can be drama queen at times and tends to over exaggerate things but she is sweet. She is very smart and always has her nose in a book. Her friends call her a bookworm. She loves making up stories and she wishes to be a writer when she grows up. She has a blue mouse named Cheesecake as her pet.

Plum Puddin'
Pear Blossom
Ad blocker interference detected!
Wikia is a free-to-use site that makes money from advertising. We have a modified experience for viewers using ad blockers

Wikia is not accessible if you've made further modifications. Remove the custom ad blocker rule(s) and the page will load as expected.