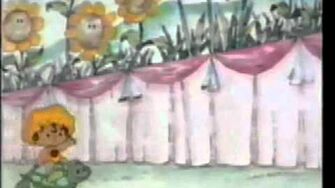 Pets on Parade
Pet's Parade
Strawberry : Side by side another, a cuddly pets a kids best friend.
You can't have one without the other. A huggable home companion to the end...
Sisters, dads, mom, and brothers, are terribly important we all know!
But a happy something more, that comes scratching on the door.
And a waggin' tail beneath the kitchen table!
So lets every boy and gal wants a furry little pal.
So an animals a kids best friend!
Here they come, just for you, kids in back, two by two!
Look at little Jelly Bear, betcha Butter Cookies there.
Lime chiffon 's got a yacker, parfait parrot wants a cracker.
What makes Cherry Cuddler berry merry, a goosey goose she calls gooseberry!
Lemon Meringue looked quite unhappy til she got a frog named Frappe.
Marmalade the butterfly is the apple of Orange Blossom's eye.
Apricot is feelin' sunny, Hops-a-Lot's her favorite bunny!
Blueberry would have a lonely house with her little cheesecake mouse.
Rhubarb sure is feelin' fine, Raspberry Tart's on monkey shines.
Dumplin 's heart sure hurt a lot til tea time turtle got
Pupcake's really quite a guy he's owned by Huckleberry Pie !
And Strawberry Shortcake without her Custard couldn't begin to cut the mustard!
So let every boy and gal, hold a furry little pal.
Cause an animals a kids best friend!