Strawberry Shortcake



Family

Apple Dumplin' (sister; 2003 version)

Friends

Blueberry Muffin, Huckleberry Pie, Orange Blossom, Angel Cake, Ginger Snap, Peppermint Fizz, Lemon Meringue, many others

Enemies

The Peculiar Purple Pie Man, Sour Grapes, Licorice Whip, Mr. Dooley, Professor Rattan

Occupation

Owner of the Berry Cafe

Pet(s)

Custard (cat), Pupcake (dog; 2003 and 2009 versions)

Filly

Honey Pie Pony

Actor

Russi Taylor(1980s), Sarah Heinke (2003-2008), Anna Cummer (2009-present)
Strawberry Shortcake
is the
protagonist
and the titular character of the
Strawberry Shortcake
franchise.
She is said to be the "unofficial princess" of Strawberryland[1], and is often seen wearing a pink hat with strawberries printed on it. In the 1980 version of the franchise, she lives in a shortcake, while in the 2003 version, she lives in a strawberry.
She shares her berry bungalow with her little sister Apple Dumplin' (note that in the 1980 rendition, Strawberry was an only child; Apple Dumplin' was just one of her friends), her persnickety cat Custard, and her mischievous dog named Pupcake (In the 1980 rendition, Pupcake was owned by Huckleberry Pie, but in the present version, he is Strawberry's pet). Many of Strawberry Shortcake's days are spent in the simple pleasures of tending berryvines. Strawberry also likes to spend time with her friends, so she frequently visits nearby lands. Strawberry is always cheerful and is ready for helping her friends at any time. In the 1980s rendition, Strawberry was said to be six years old. Her current age is never explicitly stated, but she is implied to be teenaged/young adult aged in her most recent incarnations (e.g., in Year 4 of the 2003 version, Strawberry is able to drive a car and in the 2009 version, she owns a shop called the Berry Café). Strawberry Shortcake is voiced by Russi Taylor (1980s), Sarah Heinke (2003-2008), and Anna Cummer (2009-present).
Personality
1980s
Strawberry is a bright and energetic little girl. She is kind, resourceful and always ready to help a friend in need. She loves strawberrys.
2003 Series
Strawberry Shortcake is a tomboy in this incarnation, which is implied by her outfit style and her being good at sports. She also likes gardening, which is why there are a lot of strawberries with large size around her house. She loves her sister and never fails to share equal love towards both her pets. Whenever there is a large event in Strawberryland, you can bet that Strawberry Shortcake was the one who had the idea. Despair almost never appears in her dictionary, and when it does, it doesn't take long for her to regain her optimism.
She likes singing and dancing, and she always does both whenever she has the chance. She is also a smart girl who can quickly find the right solution whenever a problem arises. She's also curious, eager to try something new, go to a place completely new for her, and make friends with a complete stranger. By the time of Year 4 period, her personality has matured, which is implied by her taking a part time job and considering what her future career will be. 
2009
Strawberry loves hanging out with her friends in Berry Bitty City. Whenever she runs her Berry Café, she's always willing to lend a helping hand or go on an adventure. Her optimism is contagious and she always sees big possibilities in everything!
Skills
She is a good dancer.
She is intelligent.
She is a good actress. ("The Play's the Thing") ("Hooray for Berrywood!") ("Lights...Camera...")
She is a good cook. ("Piece of Cake" (From Gideon))
She is a good leader. ("Queen for a Day" (From Strawberry Shortcake The Absent-Minded Professor of Boo-Boo Ville))
She is a good friend.
Appearance
The characters of the Strawberry Shortcake franchise have undergone several design changes. Strawberry's original 1980 apperance was altered drastically in 2003. It changed again in Year 4 of the DIC series' run and in 2009 with the Berry Bitty City arc.
1980s
Strawberry resembles a rag doll. She wears a bonnet with strawberry prints on it. Her hair is naturally red and short. She wears a red maid dress with three green diamonds on the white cloth and kisses running down the cloth. She wears white and green striped leggings and white doily pants. Her hands are fingerless and she wears brown shoes.
2003
Years 1-3
Strawberry's appearance is that of a human. She has very scruffy red-orange hair. She now wears a white shirt with red stripes (which appear dark red in Year 3). with a pair of blue jeans. A red jumper is tied to her waist. Her muffin-esque bonnet has been replaced with a pink sun hat with strawberry prints and a red hat band with a strawberry clip on a green and white striped bow. She wears brown sneakers.
Year 4
Strawberry wears a pink and white striped hoodie with a hot pink T-shirt underneath. She still wears jeans. She has long, shoulder-length red hair. Her hat design has not changed, but the hat band now matches the bow's color. Her shoes are formal, pink girl shoes.
2009
Strawberry's hat is replaced with a cap that resembles a strawberry, a green platform and button. She has very long flowing, magenta pink hair with very curly strands hanging lose above her curved strands going down to her waist. She wears a dress which is color halved (the top is white with green diamonds with a strawberry between; whereas the bottom half is pink with red polka-dots. Her leggings are white and green striped. She wears shoes similar to the shoes worn in Year 4.
Nightwear
Year 1-3
She wears nighties.
Year 4
She wears a night gown.
Physical Appearance
Her eyes are brown, her skin is white, and her hair is red in all of the series (with the exception of the 2009 relaunch; her eyes are green and her hair is pink).
Relationships
Strawberry has a great amount of friends.
Ginger Snap
Ginger is in Strawberry's close-knit group of friends in the 2003 version.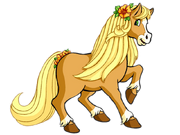 Orange Blossom
Although Orange is somewhat shy in nature, she and Strawberry get along nicely and are close friends.
Angel Cake
Angel is a close friend of Strawberry's.
Huckleberry Pie
Although Huck does not get much screen time due to him being the only central male of the series, he is a close friend of Strawberry's.
Peppermint Fizz
Peppermint initially had a bad temperament and Strawberry usually ended up teaching her lessons in kindness. However, in Year 4, most of her mean tendencies have vanished. She is Strawberry's friend.
Animals
Pets
Strawberry owned Custard ever since the '80s, but later on, Pupcake, who was originally owned by Huckleberry Pie, was re-introduced as Strawberry's pet. Strawberry found Pupcake astray and adopted him. His original color was brown with green and white striped ears, his color scheme was blue in 2003, and his color scheme was green in 2009.
Filly
Main Article: Honey Pie Pony
Honey Pie Pony is Strawberry's unofficial filly. Her mane and tail is blonde, a pink flower is on her head. Her mask is white, she has brown spots on her bottom, three flowers on the bottom, brown feet and caramel brown fur.
Home
1980s
In her earliest adventures, Strawberry's home was a shortcake surrounded by well-tended strawberry vines.
2000-2008
She lives in a bungalow resembling a Strawberry throughout the series. She owns a Strawberry field.
2009
She lives at and runs the cafe in Berry Bitty City.
Appearance in the series
1980
She first appeared in "The World of Strawberry Shortcake."
2003
Year 1
She first appeared in "Meet Strawberry Shortcake."
Year 2
She first appeared in "Horse of a Different Color."
Year 3
She first appears in "The Friendship Club."
Year 4
She first appears in "It Takes Talent."
2009
She first appears in "A Berry Grand Opening" (Pilot) and "Fish Out of Water" (From the computer animated series, 'Strawberry Shortcake's Berry Bitty Adventures').
It should be noted that Strawberry appears in every episode of all of the series.
Gallery
References
↑ http://www.huckleberrybriar.com/characters.php Huckleberry Briar: ...and as the unofficial berry princess of Strawberryland, she puts her heart and soul into seeing that things improve for everyone she meets...
4evrstrawberryz