Welcome to The Strawberry Shortcake wikia!
A growing database dedicated to documenting all information about Strawberry Shortcake.
We have 4,369 edits made, 200 articles created and 517 images uploaded since August 2008.
Feel free to join the community!
In June 2008, American Greetings announced that Hasbro had won the license from Playmates, and with it they will relaunch the series again. The extensive relaunch involved numerous large redesigns and a reboot of the franchise's universe. The relaunch began in Summer 2009, with the release of a CGI movie, The Sky's the Limit, with Anna Cummer voicing Strawberry Shortcake. A new TV series, Strawberry Shortcake's Berry Bitty Adventures, debuted on October 10, 2010 on The Hub. Merchandise of the 2009 relaunch began appearing in mid-2009. Currently, the main characters of the show are Strawberry Shortcake, Lemon Meringue, Orange Blossom, Raspberry Torte, Plum Pudding, Blueberry Muffin, and Cherry Jam. Huckleberry Pie, who was reintroduced in the third season of Berry Bitty Adventures, also visits on occasion. At The New York Toy Fair in 2014, it was learned that the toy-making license for Strawberry Shortcake had passed from Hasbro to a company called The Bridge Direct, makers of Pinkie Cooper and The Jet Set Pets dolls. The product shown appears to stay with the look of the 2009 Strawberry Shortcake relaunch, including several series of dolls featuring pets, doll furniture, and musical instruments.
Strawberry Shortcake throughout the years
Strawberry Shortcake has change quite a bit throughout the years! Here are some comparisons of the changes she has gone though!
Featured article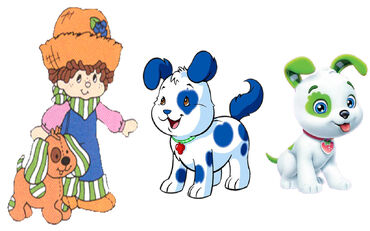 Pupcake
Tom Tom also known as Pupcake is a dog who was originally owned by Huckleberry Pie in the 1980s but is currently owned by Strawberry Shortcake in both in the 2000s and 2010s renditions.
Latest Show Update
2009 - present
The show focuses more on the fruit side of Strawberry shortcake rather than dessert
Apple Dumplin' has been introduced as a cousin
Huckleberry Pie has been introduced
Pupcake is now green rather than blue
Poll
Who is your favorite 2009 character?
Ad blocker interference detected!
Wikia is a free-to-use site that makes money from advertising. We have a modified experience for viewers using ad blockers

Wikia is not accessible if you've made further modifications. Remove the custom ad blocker rule(s) and the page will load as expected.